Ewa's Malta
There are many reasons one can fall in love with a place... for me, magic of Malta is in her name. The first time I heard this name in my high-school, I knew nothing about the country except that it was somewhere on the Mediterranean Sea and had something to do with the Catholic church, Maltese cross, and some crazy knights running around in their armors. I promised myself that one day I check this "magical" place in spite of the above (born and raised in Poland I had more than a fair share of the Catholic church and its knights; the cross was still cool).

Time passed, I did many trips, but have never forgotten about this magical name. My obsession has only become stronger after I learned about her mysterious temples, the oldest free-standing stone monuments in the world. Twice my trip was planned, twice it fell through... The third time was a charm...

So join me for yet another trip on my website and let me know (Mruczek@AOL.com) what you think! (If there is too much archaeology for you, go to"Strolling Through Malta" section at the end).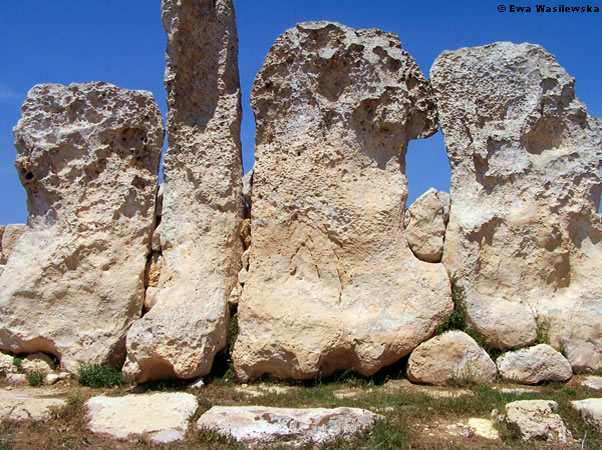 Ewa Wasilewska
---
Map of Malta
---
Basic information about the country
The Republic of Malta, located between Sicily (ca. 90 km) and North Africa (ca. 290 km) on the Mediterranean Sea, consists of seven islands of which only three, Malta, Gozo and Comino, are inhabited. There are slightly over 400,000 Maltese inhabiting total of 316 km2 of its territory.

Ewa's Funny Story: Falling in love...
---
Nobody had ever shared my obsession with Malta until one day in August 2007 I went out for dinner with my good friend Emily. As usual, she had invited some of her friends to join us because she loves company and company loves her. The tall handsome guy, Andy, had already waited for us since, as usual, we arrived late. And, as usual, I did not pay attention to his good looks and his great demeanor since after my last marriage serious dating definitely was not on my "menu." While waiting for our first cocktail, a discussion started about our favorite countries and where would we like to go next. As luck would have it, suddenly I heard "MALTA!" Without thinking, I proposed, "MARRY ME!" Without hesitation, Andy responded,"OK!"

The rest is history... And yes, we went to Malta together. But no, we didn't get married there. Too much of a cliché ...

Who are the Maltese (Malti)?
---
People known today as the Maltese people are those whose ancestors can be sought in Europe (both northern and southern), Levant (especially Phoenicia), and Northern Africa. Their language belongs to the Semitic group of languages and is a dialect of Arabic. However, if you know the Arabic language (whatever dialect it might be) do not expect to understand Maltese (Malti). It has numerous borrowings from the Indoeuropean languages, especially from Italian. It is written with the Latin script so signs are quite easy to read. Well, actually, you should not be worried about anything because the second official language of Malta is English.
| | |
| --- | --- |
| | According to Spencer Wells and Pierre Zalloua's research on Y-chromosomes more than half of the Y chromosome lineages in modern Maltese population could have been of the Phoenician origin. The competing hypothesis postulates much stronger connection of the Maltese population with Sicily, not with Phoenicia (C. Capelli et al: Population Structure in the Mediterranean Basin... 2005). |
| These are just competing hypotheses about the origins of the modern Maltese but... Who were the builders of the megalithic temples between 3600 B.C. and 2500 B.C.? What did happen to them? Did they all leave and migrate to some unknown areas (probably through Sicily) forgetting about their rocky homeland? How many did stay fighting to survive on the land which did not produce so much anymore? How many of their descendants still call Malta home? | |
These answers are being sought by many scholars, but especially by those of the Maltese origin. Their dedication led to the establishment of Heritage Malta a national agency of the Maltese Government in 2002. They are managing all national museums and archaeological/historical sites with their collections in the Maltese territory.

The team is extraordinary and multitalented. Just to give you an idea -- visit a website of my friend Dr. Claire Baluci. Not only is she an accomplished scientist (B.Sc, M.Sc., Ph.D., Ph.D.[BioSci), C.Biol., M.I.Biol., EurProBiol, A.L.C.M., L.L.C.M., F.L.C.M., MCP, OLJ), but an award-winning organist entertaining people around the world. Beauty, brains, and musical talents... Yes, ladies, you can have it all!
Did I mention that she also works in an "office" building with the best view in Malta?

Past: miscellaneous
---
The Maltese past is packed with dramatic events, exquisite architecture, incredible archaeological discoveries, and mysteries attracting seekers of the lost land of Atlantis, biblical and other giants, as well as astronomers and astrologists of all sorts. Malta is a home to seven UNESCO heritage sites. It means that, considering her size and number of inhabitants, the Maltese are among the most "cultured" populations of the world (1 UNESCO site for 57,143 modern inhabitants!). Since I don't want to change this site into one of my lectures, I will focus on a few things which are of a great interest to me, not necessarily to anyone else.
What is NOT there? Dinosaurs!

The dinos are highly sought by children anywhere so the Maltese ones are not an exception. They visit the Maltese National Museum of Natural History (Mdina) frequently with their schoolmates as a part of the national school program. Its curator, John Borg, is always flooded with questions about dinosaurs so together we are trying to bring them to Malta. The Utah Museum of Natural History where I am an "honorary" curator of the Near Eastern Collection (see my search for cuneiform tablets sold by Professor Edgar J. Banks), graciously has agreed to donate their three traveling exhibits on dinosaurs (we have plenty of them!) to the Maltese children. John must promise me to take pictures of their smiling faces!
| | | |
| --- | --- | --- |
| | | |
| | | The National Museum of Natural History or the Palazzo de Vilhena is itself a beautiful example of palace architecture in Malta. Although it houses an extensive collection of rocks and minerals, birds, bird's eggs and nests, mammals, fish species, etc., for seeing the most interesting of them such as bones of a dwarf hippopotamus (Hippopotamus melitensis) and pigmy elephants (Elephas falconeri) dating as far back as to 180,000 B.P., go to the Ghar Dalam Museum. |
The above is a very ancient past to learn about but... When you are at Mdina you CANNOT skip a really funny (unless you are a living part of the exhibit) Museum of Torture located next to the Museum of Natural History. It is a true Museum of Torture not like the ones which ended up as such (i.e., mannequins and visitors are "tortured") in China and Iraq. Although somewhat pricey (4 Euros per person), it makes you feel good that you live in the 21st century when such tortures are mostly discouraged.

<
Past: The Temple Period
---
The Temple Period in Malta begins ca. 4100 B.C. The first two phases (Zebbug and Mgarr) are dated to between 4100 and 3600 B.C. as based on pottery assemblages. While there are no temples dated to this period, it is very important because for the first time in the Maltese history people were buried in artificial rock-cut tombs. The dead were buried with grave goods but not necessarily for "forever." Whenever more space was needed for the recently deceased, the "old" bodies were pushed aside and even piled in heaps (below: a rock-cut tomb at Xaghra, Gozo, eventually changed to the temple's refuse). This tradition of family turning to communal tombs and generational sharing of burial grounds survived until the very end of the Temple Period ca. 2500 B.C.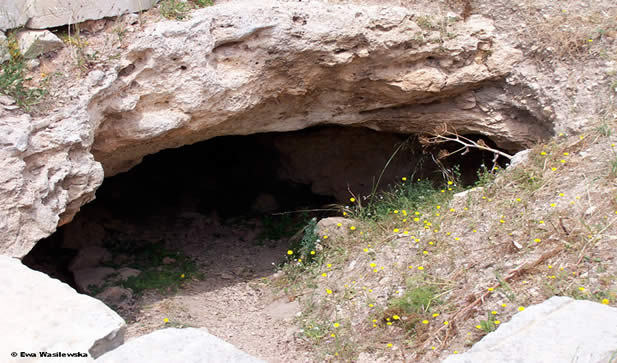 The famous temples of Malta were built during the next three phases, Ggantija, Saflieni, and Tarxien, between 3600 and 2500 B.C. Their plans were adjusted, transformed, and expanded during this period of time but their monumentality and importance for the local cultures of the area remained the same. There are at least 23 megalithic temples known to exist on Malta. This is a very high number considering the fact that the Maltese population at the time is estimated to be only ca. 11, 000.
The oldest megalithic temple complex,

Ggantija,

has been found at Xaghra, Gozo. These temples, believed to be built by the legendary Maltese giants (hence the name), are made of local coralline limestone blocks.These temples were not excavated but simply cleared at the beginning of the 19th century.
http://www.maltavista.net/en/list/photo/1007.html
The South Ggantija Temple is the earliest of the two and consists of three main apses. The second temple of the third millennium B.C. consists of four apses. The facade is standing over 6 meters, but in all probability, it was much higher (it is believed that the Maltese temples could have been even three times higher than modern standing ruins).
The outside corner of the South Temple (ca. 6 m)

.

Huge blocks piled on top of even bigger megaliths.
| | | |
| --- | --- | --- |
| | | |
| | | |
| The right apse upon entering the South Temple. | | Shrines/altars of the South Temple. |
| | | |
| --- | --- | --- |
| | | |
| | | |
| South Temple -- an entrance. | | North Temple -- an entrance. |
| | | |
| Monumental entrance -- detail. | | Monumental entrance -- detail. |
| | | |
| --- | --- | --- |
| The Xaghra Stone Circle (not for tourists) has been found ca. 300 m south-east of the Ggantija temples and was excavated between 1987-1994. This was an underground burial sacred ground whose entrance to the Circle consisting of megalithic blocks faced the temples. Thousands of skeletons have been found there in the underground and modified natural caves and cavities. Most of them were secondary burials, i.e., they were brought to the site after they had been already defleshed somewhere else. They were nicely sorted out anatomically and stored as groups (skulls with skulls, etc.). How this communal cemetery was connected with the temples is unclear but it seems reasonable that there was some sort of a ritual path between both. | | Daniel Cilia: The Megalithic Temples of Malta (all three pictures) |
| | | |

The other temples of the Ggantija phase are located at Skorba and Ta'Hagrat (both at Mgarr, Malta). Unfortunately, I was not able to visit them so for their description see Daniel Cilia's website. Interestingly, the Ta'Hagrat temples, probably built ca. 3500 B.C., were erected mostly of undressed boulders although its trilithon doorways and walls of internal passages were constructed of dressed ones.

The Hagar Qim ("standing stones") Temples (four) located near Qrendi village in south-western part of Malta were built over an extended period of time starting with the Ggantija phase. Their plan is unique, not as regular as of the other temples, and may reflect continuous transformation in ritual practices of the Maltese people. However, in spite of our best efforts, the Hagar Qim's spatial arrangement is still a mystery. The banner picture and the first standing megaliths of this website are from Hagar Qim.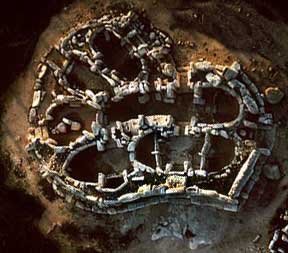 Daniel Cilia: The Megalithic Temples of Malta.
| | | |
| --- | --- | --- |
| | | |
| | | |
| The Facade of Hagar Qim. Ewa is 5'4-5'5. | | Andy is 6'2-6'3. |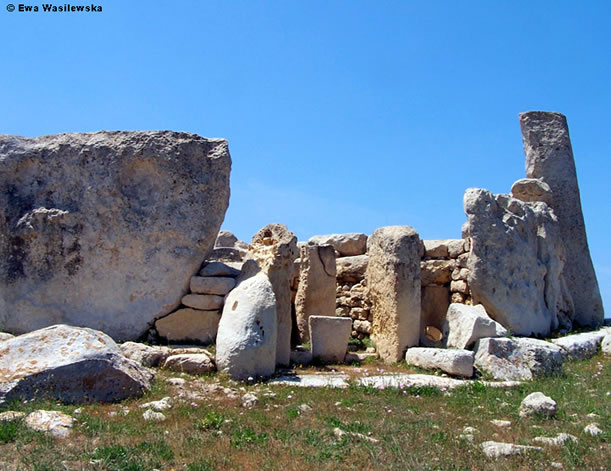 To the left: the biggest megalith at Hagar Qim (ca. 7 m & ca. 20 tonnes). To the right of this megalith: the so-called "Fertility Shrine."The small stone is believed to represent a female and one behind it is supposedly a phallic symbol. Barely visible behind the big megalith to the right of the "female symbol" -- the so-called oracle hole.
The Hagar Qim temple is the only one in Malta which has two central portals on a main axis (left). Right: one of the two so-called "porthole doorways" connecting temple chambers.
Today all Maltese temples are open to the sky. However, it is believed that originally at least some of them or some rooms within temples were covered with the corbelled roof (right). The Hal-Saflieni Hypogeum (see below) imitated such a roof in its rock-cut architecture underground.
Unusual altars/offering tables (left) have been found also only in Hagar Qim. The sculpture of two obese "mother-goddesses" (?) is partially preserved with their carved legs (see above the picture of the Tarxien statue). Their position seems to be the same as found on the statuette (below) from the Xaghra Circle (after Daniel Cilia). When preparing this website I have also noticed the shape of the stone right to this double-figure statue. Compare it to the "Fertility Shrine" above. Is this a coincidence or...?
| | | |
| --- | --- | --- |
| | | |
| | | The Hagar Qim temples offer several examples of decorative art on cultic objects as this altar (left) or a slab with oculi spirals. |
Ps. When at Hagar Qim don't forget to stop at its restaurant. The food is good, drinks are even better, but the owner, an "Iron Lady"with a great heart (wearing a red blouse) is the best, making everyone welcome to her place as a part of her very extended family.

Close to Hagar Qim (only 500 m) is yet another megalithic complex known as the Mnajdra Temples (three buildings dated to three consecutive periods between 3600 B.C. and 2500 B.C.). Unfortunately, this temple is closed to a general public because it has been recently vandalized, so I had to take pictures from behind a fence.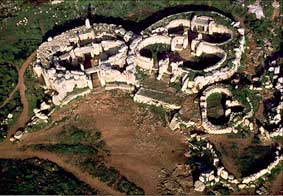 Daniel Cilia: The Megalithic Temples of Malta.
The orientation of the youngest temple (of the so-called Tarxien phase between 3150 B.C. and 2500 B.C.), known as the South Temple (below), is quite unusual because of its astronomical alignment. "… to mark the rising of the sun during the Equinox and Solstices. During the Equinox the rays of the rising sun pass directly through the main doorway and reach the innermost central niche. During the Summer Solstice the firs rays of sunlight illuminate the edge of a decorated megalith found within the first apses, whilst during the Winter Solstice the same effect can be seen on the corresponding megalith in the opposite apse" (Heritage Malta: The Megalithic Temples of Malta. Draft Description; for demonstration see Daniel Cilia's website).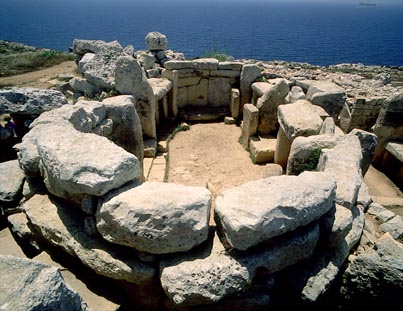 Daniel Cilia: The Megalithic Temples of Malta.

The Tarxien complex of Malta (in Paola) consists of three temples constructed consecutively since the Ggantija phase until the end of the Tarxien period. This complex utilized a usual plan of various apses known from other temples in the area.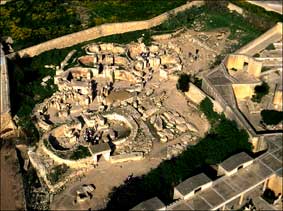 Daniel Cilia: The Megalithic Temples of Malta.
| | | |
| --- | --- | --- |
| | | |
| The main gate restored in 1956. | | The so-called "cupboard" altar. |
| | | |
| --- | --- | --- |
| | | |
| The first apse with an altar. | | Looking through to the third apse. |
| | | |
| --- | --- | --- |
| | | |
| Left part of the first apse with a stone bowl. | | The so-called "pitted-hole" design. |
| | | |
| --- | --- | --- |
| | | |
| A relief of a bull from the Middle Temple. | | Next to it -- another bull and possibly a sow below. |
There is what it appears to be a staircase (left) between two temples at Tarxien. Did it lead to the roof where certain rituals were performed and/or astronomical observances took place?

Above and below -- reliefs from Tarxien (after Daniel Cilia).

Close to the Tarxien Temples one of the most important and spectacular discoveries has been made during the housing development of 1902: The Hal Saflieni Hypogeum. This underground cemetery has been used for burials between 4000 and 2500 B.C.
| | | |
| --- | --- | --- |
| | | This is an absolute MUST for anyone visiting Malta. However, in order to see this incredible necropolis (from my point of view, even more impressive than pyramids) you must pre-book a tour since only 70 to 90 people a day are allowed to see it. Photography and video-recording are forbidden so I must rely on some pictures from Daniel Cilia's website. His material on the Hypogeum not only is very informative but also fun to browse through (all pictures are from his site unless specified otherwise). |
The Hal Saflieni complex is quite unusual because it represents the so-called "architecture cut in natural rock." It seems to imitate the interiors of the megalithic temples of Malta and hence provides valuable information as to the corbelled roofing of the temples (not preserved at the time of their discovery). The Holy of Holies -- 5 m below the ground.

It consists of three levels (one below the other) of rock-cut oval chambers. The uppermost level is the oldest one which originally was probably covered with a monumental structure marking the presence of the Hypogeum and leading to its underground cemetery (bottom picture --

Jim Diamond.
| | | |
| --- | --- | --- |
| | | |
| | | |
The Middle level includes, among other rooms, a main chamber (left), the so called Oracle Room (right), and a room decorated with wall-paintings in red ochre (mostly spiral and honey-comb decorations). The Oracle Room contains a small niche (right) which generates the echo (hence its name). It seems to carry on a man's voice only while a female voice is subdued. Whether these sound effects were intended or not it remains a mystery. However, once "discovered" they might have been exploited in various rituals.
The lowest level reaches 10.6 m in depth (counting from the surface). It includes the famous "Holy of Holiest," the innermost sanctuary. The steps were leading to this room from the upper level. More steps were found leading to the deepest niches where a high number of skeletal material has been found.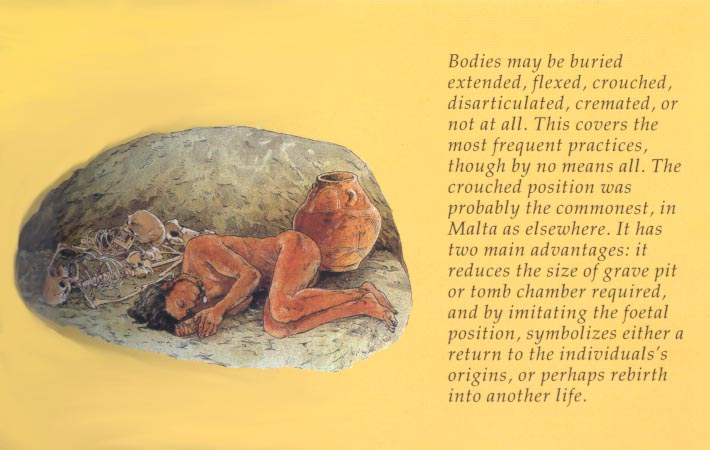 It is estimated that ca 7000 individuals were buried in the Hypogeum. It is believed that bodies were deposited in a crouched position "waiting" for the flesh to decay. Then, the bones were treated with red-ochre and pushed aside in a pile, not individually, freeing the place for new "fresh" bodies.

The megalithic temples of Malta were constructed without any metal tools and knowledge of a wheel. The only tools found were made out of quartzite, flint, and obsidian (last two have not been found in Malta and must have been imported from Lipari and Pantelleria [small islands near Sicily]). It is believed that Malta was divided into smaller territories with a couple of thousand people living within their limits. They were "responsible" for erecting temples within their own areas and probably "competed" with each other as to their monumentality, designs and magnificence. Just imagine, a few hundred men out of ca. 2000 community, dragging huge stone blocks (some of which as heavy as 57 tonnes) using wooden levers and rollers to the building sites. They used stone balls to maneuver these blocks on the site so they could move them in any direction. (For more information about erecting these temples and visual reconstruction of the building process see Daniel Cilia's website)
| | | |
| --- | --- | --- |
| | | |
| Tarxien | | Daniel Cilia |
Although none of the temples is preserved well enough to reconstruct its original look, the ancient Maltese left a few clues. For example (after Daniel Cilia), there is a graffiti on one of the upright megaliths at Mnajdra showing a temple (left) and a small limestone model was found at Ta'Hagrat (right). Neither of them looks like the known temples, but at least give us an idea of a basic design.

STROLLING THROUGH MALTA
---
There is not much to do in Bugibba but being a "lazy" tourist: rest, get tan, drink, eat, and look for a property to buy for your future vacations (I have never seen so many building cranes in one place). My search for a megalithic dolmen was successful but it took me a while to "accept" its pitiful appearance.

One must take a ferry to go to Gozo and/or to Comino. While the Gozo trip is "educational," the Comino one is simply for fun in the Blue Lagoon. Guess which one did I take? Gozo is very pleasant and free of tourists outside of Il-Kastell and Ggantija temples. I was especially enchanted with quiet and romantic streets of pale colored houses. And, for the best cheese platter go to "Main Square Bar & Restaurant" and enjoy the breeze on the roof.
| | | |
| --- | --- | --- |
| | | |
| | | |

Mdina, Arabic for a "walled city," has already been fortified 3000 years ago by the Phoenicians. With time, it became the seat of the Maltese nobility during the mediaeval period and today is referred to as a "Silent City." This is a perfect place for a quiet and romantic afternoon strolling through narrow streets and admiring Mdina's palaces, the St. Paul's cathedral, and many other interesting buildings. Outside of the main gate there is a tennis court built "into" the fortress (for some reason I thought it was funny). When you start walking out of Mdina, look for the "Peristyle" restaurant (out of the main route, to the right). It is not a tourist place but has absolutely the only good and authentic rabbit stew, a national dish of Malta. I don't usually eat any fluffy animals but had to try this one. Yummy...

Rabat is a town outside of the Mdina's fortified walls. The sights worth visiting are St. Paul's Church, his grotto where he preached during his stay in Malta for three months, and a museum consisting of beautiful chapels constructed for the prilgrims in the 18th century (no pictures). My most favorite part of Rabat are catacombs of St. Paul and St. Agatha.
| | | |
| --- | --- | --- |
| | | |
| | | |
| | | |
| | | |
| | | |
| | | |

Valetta is too crowded with many tourists wondering aimlessly through the main streets in search of yet another bar or an overpriced tourist store. However, the view of the Great Harbour (above, from Claire's office), the St. John's Cathedral and National Museum of Archaeology compensated for an uneasy feeling that I am one of them!

A Few Suggestions...
Usually I try to avoid any touristy things. However, the "Knights Spectacular 1565 Dinner Show" is so well promoted that we had to see it. Oops... If not for the good wine which was not flowing as freely as advertised (fortunately, our row was empty so we didn't need any refill), it would be a total waste of time at a high price of 48 Euros per person. True... there were nice costumes, a canon, eight (confused) horses, and a bunch of performers whose talents were not as visible as their desperation to finish badly choreographed show. The dinner was also quite forgettable although served in "mediaeval" looking china. So, you can safely skip it unless you want to prove me wrong. A total tourist trap!

Drive in Malta at your own risk...Even with a GPS you can easily get confused and parking is much more challenging than finding a liberal democrat in Utah. Unless you are independetly wealthy, avoid taxis. It seems that the shortest and cheapest fare starts at 10 Euros. Get a bus schedule, identify bus stops, and enjoy a ride in one of antique buses that you learn to love soon...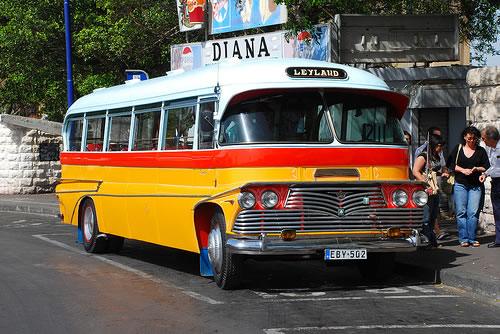 http://www.flickr.com/photos/8974899@N08/828142484/in/set-72157600883435269/

We all know how expensive flying is these days so we all look for the best deal on Internet. I am as good as anyone else finding cheap fares after browsing through diferent sites for hours but there is a better way as I have discovered. Believe it or not but travel agents still exist and good ones get you fares you won't be able to find yourself. So, I don't waste my time anymore on Internet. I just send an email to my "new, best friend" Deep Sukhdip Kaur and she does all the work for me. For example, my round-trip ticket to Malta from Salt Lake City, Utah, through Minneapolis, Minnesota, and Amsterdam, Holland, cost me only $200.00 more than the round-trip ticket to Minneapolis alone!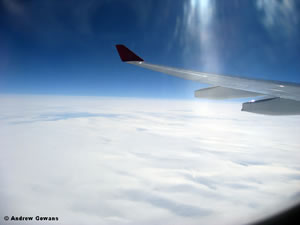 Odds and Ends...
---
Unless specified all pictures are taken and copyrighted by Ewa Wasilewska or Andrew Gowans. Two maps have been "borrowed" for educational purposes from different Internet sites.

???

For Ewa's educational CDs email Ewa at Mruczek@AOL.com. The following titles are ready:

WOMEN OF THE MIDDLE EAST. ••• IRAN: AN AXIS OF EVIL OR PARADISE? •••EVERYDAY LIFE IN IRAQ AND IRAN. ••• INTRODUCTION TO ISLAM AND THE QUR'AN •••IRAN: CRADLE OF ANCIENT CIVILIZATIONS.

Remember, I am always willing to make a deal!

WOMEN OF THE MIDDLE EAST.
IRAN: AN AXIS OF EVIL OR PARADISE?
EVERYDAY LIFE IN IRAQ AND IRAN.
INTRODUCTION TO ISLAM AND THE QUR'AN. IRAN: CRADLE OF ANCIENT CIVILIZATIONS.

Designed and maintained by Dr. Ewa Wasilewska. July 2008.
All rights reserved by Dr. Ewa Wasilewska. Salt Lake City. 2008
Let's go to: